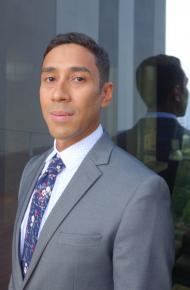 Consultant, Performance Measurement Practice
M.Sc. International Business, HEC Montréal, 2013
B.A. Political Science and Philosophy, Université de Montréal, 2009
Juan-David Gonzales is an international development consultant and a monitoring and evaluation specialist. Mr. Gonzales has conducted more than 20 mandates including organizational assessments, program, strategy and policy evaluations. He is frequently called upon to work with the United Nations, most notably with the United Nations Development Program (UNDP), the United Nations Children's Fund (UNICEF), the Food and Agriculture Organization (FAO), the World Food Program (WFP), the High Commissioner for Human Rights (OHCHR), the International Labor Office (ILO), UN Women and several others, at country and at global level. also works with other international organizations such as development banks (World Bank, Caribbean Development Bank), multi-donor trust funds (Global Partnership for Education – GPE) as well as with foundations and government involved in bilateral development interventions.
Mr. Gonzales' experience covers a wide range of thematic areas that focus primarily on human rights issues (rights of indigenous peoples, child protection, gender equality, education, migration), economic and social development (poverty reduction, rural development, labor regulation) and governance (political participation, institutional strengthening, capacity building, partnerships). His knowledge of results-based management and of mixed methods techniques allows him to tackle complex developmental problems using a participatory approach and multisectoral perspective.
Mr. Gonzales has worked in a dozen countries with government entities, civil society organizations and vulnerable populations. Although many of his mandates have covered countries in Africa, Asia and Europe, he has extensive knowledge of Latin America and the Caribbean and he is fluent in French, English and Spanish.