Capacity-Building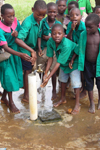 Many public sector organizations in Canada and around the world are undertaking reforms and seeking to build their technical and managerial capacities to improve their performance.
In Canada, governments and their agencies are under increasing pressure from taxpayers to demonstrate that they are using funds wisely and effectively.
In the international development context, governments and NGOs are under increasing pressure from donors to demonstrate that they have the capacity to absorb funding.
Universalia develops, implements, and monitors organizational learning activities and services to help government and non-government organizations build their capacities in the following areas:
Human resource management
Monitoring & Evaluation
Results-Based Management
Organizational diagnosis and assessment
Organizational change and development
Strategic planning and management
Project management
Organizational re-structuring
Executive and management development
Performance management