Strategic Management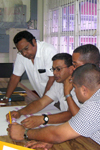 Recent economic challenges, increased demands for improved service delivery and accountability, and an emerging awareness of the benefits of integration and multi-stakeholder collaboration are driving public sector organizations to investigate new business models.
Universalia helps clients design and implement new business models and strategies (including organizational and process design, governance structures, and performance measurement systems) that lead to increased effectiveness, efficiency, and relevance.
In consultation with key stakeholders, we help client leadership teams:
Identify and evaluate alternatives and select the service delivery model and strategic direction with the strongest potential value
Develop concrete implementation plans that are supported by a business case and rigorous financial analysis.
Our strategic management services often include assistance in the following critical areas:
Transformation & Cost Reduction Strategy – Assisting organizations to identify and implement fundamental changes to their organizational and process models
Service Delivery Models & Performance Management Strategy – Assisting organizations to identify, select, implement, and monitor new service delivery models
Multi-stakeholder collaboration models – Providing design and implementation support to help multiple organizations work successfully in a collaborative and integrated manner.