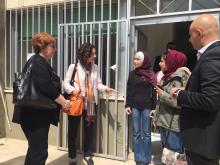 Universalia was selected by the Canadian Bureau for International Education (CBIE) to conduct a Baseline Study for the "Launching Economic Achievement Program" (LEAP) for Women in Jordan. The Program will support women's empowerment for sustainable economic growth in Jordan through programming that increases productivity and job opportunities generated by women entrepreneurs; and reduces gender-specific barriers to women's entrepreneurship and to women entering into and remaining in the workforce.
The baseline assessment is intended to provide information that will assist in establishing the following:
Baseline data for the project as benchmarks for performance evaluation;
Information that will assist in designing the project's monitoring and evaluation plan;
Data to validate entrepreneurship and business services training modules;
Data to validate Leadership and Entrepreneurship outreach programs to women and girls in High Schools and Universities; and,
Data to validate the incubator model for women-led start-ups.