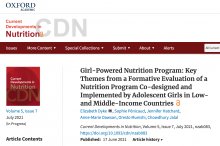 Our colleagues Elizabeth Dyke, Sophie Pénicaud, Anne-Marie Dawson, and Oresto Munishi, along with Jennifer Hatchard and Chowdhury Jalal for Nutrition International, recently published an article titled: Girl-Powered Nutrition Program: Key Themes from a Formative Evaluation of a Nutrition Program Co-designed and Implemented by Adolescent Girls in Low- and Middle-Income Countries.
The article was published in the latest volume (Volume 5, Issue 7, July 2021) of the journal Current Development in Nutrition, a "peer-reviewed, open access journal that strives to briskly review, publish, and disseminate high-quality research in nutritional sciences".
The article is the final deliverable of the Formative Evaluation of the Girl Powered Nutrition Programme, which was commissioned by Nutrition International and undertaken by Universalia, between 2018 and 2020. The evaluation was largely qualitative (employing focus groups, interviews, and document analysis). Based on the results of the formative evaluation, themes related to working with adolescent girls were identified.
A key conclusion of the article is that "similar programs with key features such as co-design, suitable timing, curriculum, and exposure of programs by age group, addressing underlying structural issues, the involvement of gatekeepers and duty-bearers, and confidence-building can increase adolescent girls' nutrition knowledge and attitudes".