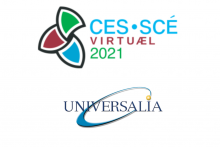 Universalia is proud to support the 2021 Canadian Evaluation Society (CES) Conference as one of the conference's sponsors. The theme of this year's CES Conference is, "Evaluation Utilization: Achieving Our Potential?" Utilization-focused evaluations are central to Universalia's work, and we are pleased to contribute to the conference's exploration of our collective experience in this area. The conference's proceedings begin on 10 May 2021, with its highly interactive, completely virtual program set to take place until 14 May.
The 2021 CES Conference will discuss and examine evaluation utilization in terms of positioning evaluation utilization (What is it? What different types of uses of evaluations are there?), achieving evaluation utilization (How is it achieved? What factors determine use of an evaluation?), and questioning the use of evaluation (Whose utilization? Who defines the uses of evaluations?)
In addition to sponsoring the conference, Universalia, alongside colleagues from Baastel, Goss Gilroy, and PRA Inc., contributed to a stocktaking exercise on the readiness of Canadian evaluation to incorporate sustainability, and the results of this exercise will be presented in a panel at the conference, entitled, "Is Evaluation in Canada Ready for Sustainability?" on Friday, May 14 2021.  
Universalia's President, Katrina Rojas, will participate on a panel on evaluation utilization and the Sustainable Development Goals (SDGs), together with Evan Green (Baastel) and Hubert Paulmer (Goss Gilroy). Also, our colleague Kenza Bennani from the Gender Equality & Inclusion practice will present an introduction to filmed evaluations. Marie-Hélène Adrien, Senior Consultant at Universalia, will be a member of a panel presenting the 2021 CES Awards.
The 2021 CES comes at a time in which Universalia is expanding its team! See our "Job Postings" webpage for more information on positions currently available at the firm.
For the full program of the 2021 CES Conference, please see this link.
Key dates and times:
10 May 2021, 11am EST – CES Conference Opening Ceremony
12 May 2021, 11am EST – "A Different Format for a Different Use? An Introduction to Filmed Evaluation," a short presentation by Kenza Bennani
12 May 2021, 12:30pm EST – "Evaluation and the SDGs: Positioning and Enhancing Utilization – Lessons and Challenges around the World," a panel discussion with Hubert Paulmer, Evan Green and Katrina Rojas
13 May 2021, 3:00pm EST – CES Awards Event
14 May 2021, 1:00pm EST – "Is Evaluation in Canada Ready for Sustainability?", a panel discussion that draws on pro-bono contributions from leading evaluation firms in Canada, including Baastel, Goss Gilroy, PRA Inc. and Universalia