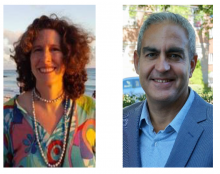 The Board of Directors is pleased to announce the appointment of Eric Abitbol, PhD as President and Chief Executive Officer of Universalia, effective October 1st, 2022. Eric is a passionate evaluation practitioner, theorist and innovator, working at the intersection of environmental governance, sustainability, security and conflict transformation. Since joining Universalia in 2015, he has led evaluations, strategic planning and research initiatives with an outstanding team, providing support to leading organisations and communities worldwide. Working closely with the Board, management and staff in his new role, Eric will carry on leading the Environment, Security and Conflict Transformation (EnSeCT) practice of Universalia.
As CEO, Eric will be driving a renewed vision for the firm, building on the outstanding work and commitment of his immediate predecessor, Katrina Rojas, as well as that of prior leadership. The Board of Directors would like to extend a warm thank you to Katrina for having led Universalia with care and diligence through these challenging past two pandemic years. Katrina will continue as a Senior Consultant, leading consulting practices that focus on Organization and Partnership Performance as well as Gender Equality and Inclusion.
Please join us in welcoming Dr. Eric Abitbol as Universalia's new President and CEO.