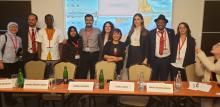 The International Development Evaluation Association (IDEAS) in collaboration with the Global Environment Fund (GEF) held a Conference in Prague (October 2-4) on Evaluation for Transformational Change.
This Conference was a Call to transform the world! Four Years after Agenda 2030 was adopted by the global community, this call has become more urgent than ever.
Universalia is a strong advocate for the achievement of the SDG and for the need of evaluators to step up and contribute. The Conference gathered more than 300 stakeholders from the evaluation community and the environment groups and culminated in the Prague Declaration, a commitment to reinforce the role of evaluators to monitor and evaluate the achievements of the SDGs.
Universalia contributed to the Conference through various presentations done by Dr. Archi Rastogi on the work of Universalia in the area of environmental transformation. Universalia's CEO and IDEAS Board member, Marie-Hélène Adrien presented and moderated sessions for the Young and Emerging Evaluators (YEEs).
Universalia provided a grant to IDEAS to support its most recent publication launched at the Conference: Evaluation for Transformational Change: Opportunities and Challenges for the Sustainable Development Goals.