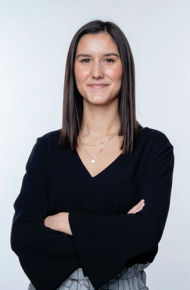 Evaluation Analyst, Environment, Security and Conflict Transformation (EnSecT) Practice
M.Sc, Environmental Sustainability, University of Ottawa, 2019
B.A, Psychology, University of Ottawa, 2016
Aurélie Ieroncig is an Evaluation Analyst for Universalia's Environment, Security and Conflict Transformation Practice where she has contributed to several mandates for UN agencies, international financial institutions, and global funds and partnerships like UNESCO, the Global Environmental Facility, World Bank, the African Development Bank, and the Asian Development Bank.
Prior to joining Universalia, Ms. Ieroncig provided consultancy services in Atlantic Canada where she notably worked closely with several Indigenous communities across the region to advance economic development and self-sufficiency. Ms. Ieroncig has also worked closely with the Climate Change Impact and Adaptation Division (NRCan) and Environment and Climate Change Canada on the development of the National Assessment, Canada in a Changing Climate: Advancing our Knowledge for Action.
Ms. Ieroncig has completed over 30 mandats in a myriad of areas including monitoring & evaluation, business development, climate change, agriculture, fisheries and tourism. Her methodological experience includes program evaluation, economic impact assessments, feasibility studies, business planning, strategic planning, and governance and organizational optimization. She has undertaken numerous projects using a mixed-method approach and has a wealth of experience in research design, data analysis, data visualization and research communication. Ms. Ieroncig is fluent in both French and English.