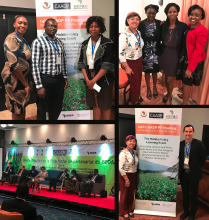 Dr. Marie-Hélène Adrien participates in the 14th CAADP Partnership Platform Meeting on the theme: Accelerating the Implementation of National Agricultural Investment Plans to Achieve the Malabo Goals and Targets.
At the African Union Summit in Malabo (Equatorial Guinea) in June 2014 Heads of State and Government adopted a set of concrete agricultural goals to be attained by 2025: The Malabo Declaration on Accelerated Agricultural Growth and Transformation for Shared Prosperity and Improved Livelihood. The Declaration led to the development of the Comprehensive Africa Agriculture Development Program (CAADP).
The 14th meeting of the CAADP was held in Libreville (Gabon). More than 300 delegates attended, from 40 African countries, Donor agencies, Civil Society and other Non State Actors.
Dr. Adrien was accompanied by Mr. Zachariah Su (Consultant at Universalia and was able to collect information to inform an ongoing evaluation of the agricultural advocacy portfolio of the Bill and Melinda Gates Foundation.