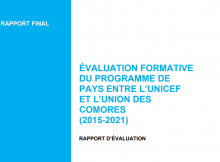 Universalia is pleased to announce the completion of the Country Programme Evaluation for UNICEF in Comoros!
The evaluation was carried out between February 2020 and January 2021, and covered the programme's three main components of child survival and development, education, and protection and social inclusion. Furthermore, the evaluation also took into account the cross-cutting approaches and strategies of communication for development, gender, emergencies, early childhood and adolescent development.
The Final Report is available online in French.
Congratulations to the team, Juan-David and Sophie!